Without the trust placed in us by citizens, by elected government and by our employees, we wouldn't be able to do the work we do. In many ways, our performance can be measured in the social and economic prosperity of our province, its communities and its citizens. We can't be successful in any of those measures if we don't start from a place of trust.
Every one of us is bound by a promise not just to do our jobs, but to do them in ways that maintain and enhance the public's trust in the public service. This is reflected in the Standards of Conduct that govern our work, setting out our responsibilities to work impartially, honestly and respectfully in our relationships with the public and with each other. It is reflected in the values of the public service: courage, passion, teamwork, service, accountability, curiosity and, above all, integrity.
That commitment to integrity is essential to who we are as a public service. It isn't optional. As an employer, we trust and expect our employees to act with integrity at all times. We provide the guidance, resources and training to ensure they can.
Acting with integrity means we do our utmost
to make the right choice even in the most
difficult of circumstances.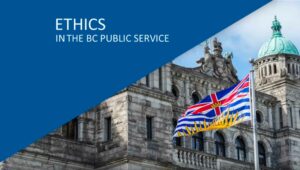 Acting with integrity means we do our utmost to make the right choice and do the right thing even in the most difficult of circumstances. It's not always easy. Public servants can face a myriad of competing and compelling interests and pressures, and they need to make countless difficult decisions every day.
Some of those decisions will directly affect the lives of citizens, families and communities. Some will influence the long-term future of our province, its environment, its economy and its prosperity. Some will force us to set aside our own personal convictions in favour of supporting the public interest. But whether the choices we face are big or small, they are governed by the ethical compass of integrity. It doesn't mean we never make mistakes. But it means that even when we do, we act with the right intent, we learn, and we improve. Because we know that is what is expected of us, and because we know it is essential to maintaining the trust placed in us by British Columbians.
To further enhance the trust of citizens, government and our employees,
we will provide:
New public-facing online resources to support transparency, awareness and understanding of the role and work of the professional public service.
New engagement and awareness resources to help all employees understand the ethical framework and obligations of professional public servants.
Continued enhancements to onboarding and orientation for new employees, including executives, to ensure they get the best possible start to their public service careers and understand their professional responsibilities.
Continued support and enhancement of the ethics advisory service, to ensure all employees can access advice to help them navigate ethical decisions such as conflicts of interest.
Policy enhancements and improved training and resources to address systemic barriers and to foster a more inclusive and respectful work environment that is free from discrimination, harassment and bullying.